This past weekend was spent at my sister's house in St. Charles. We managed to make it a full weekend by watching her team play in a volleyball tournament, visiting Grant's Farm Halloween Event and a pumpkin patch nursery. The kids were definitely spoiled all weekend by everyone. And we were spoiled too as we didn't have to pay for much and were treated to most everything all weekend. Thank you everyone! On Friday night before we left Jaidyn attended a Halloween party hosted by one of her kindergarten classmates. And our most exciting news...we signed a contract on our home Saturday morning. We are so excited and praying that all goes as scheduled and that there are not any bumps in the road as the closing date is set for early November...and there is so much to do before then.
Ready to Party!!
She doesn't have to act the part. The costume is a perfect fit.
Since Jaidyn was getting to wear her costume, Addy put part of her Hannah Montana costume on.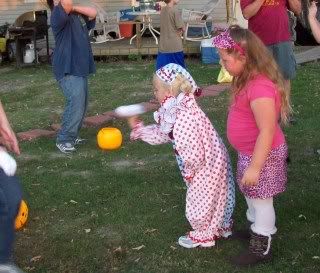 Throwing the ghost sock into the Jack-O-Lantern bucket.
The clown with her friend the pink cheetah cat.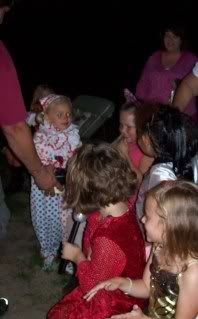 Ooey-Gooey, It's Hall O. Ween's brains!!
Grant's Farm Halloween Event
Waiting patiently to board the shuttle train.
The girls enjoyed feeding the goats much better this year, partly because most were trying to sleep by this point in the night and were much calmer than last year. Last year they were attacked by most chewing on their clothes. Levi wanted nothing to do with it and felt safer on the other side of the fence.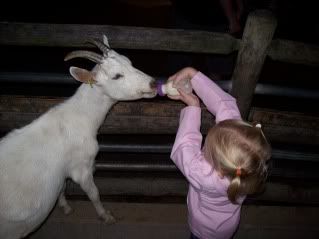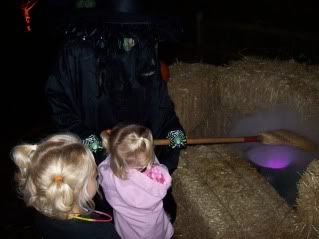 Helping a witch stir her brew.
Papa's face said it best...we decided to watch a show in the park. And it might have been the worst script/acting that we have ever had to sit through. Thankfully, it only lasted 15 minutes. The kids however enjoyed the show, so I guess that's what mattered.
Mission accomplished. Leaving Grant's Farm at 10:00 had Addy wiped out.
Pumpkin Patch Pictures
They were a dusty mess from the corn pits.
Train Ride
It was close to 90 degrees on Sunday and I think the heat made us all feel like this.