Jaidyn celebrated her 100th day of Kindergarten on Monday at school. Some of the days activities consisted of making a fruit loop necklace with 100 fruit loops that they could snack on all day (she made it home with 4 left), an "I'm 100 Days Smarter" crown, eating treats that everyone brought in (Jaidyn brought 100 mini marshmallows), and wearing her 100th Day t-shirt that she made.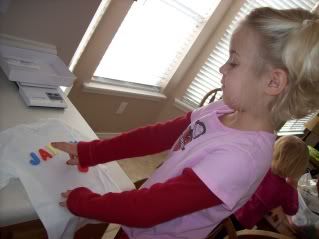 I'm not at all crafty, but on Sunday afternoon we managed to find some craft stuff around the house and attached it all with a glue gun. I am not sure what the other kids in class came up with, but Jaidyn was happy with her creation so that's all that matters.
While Levi napped, our afternoon turned in to a mini crafting session of hot gluing, stickers, and painting.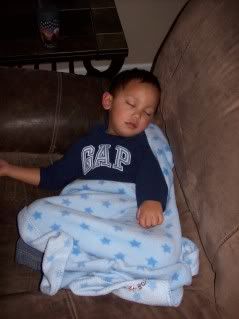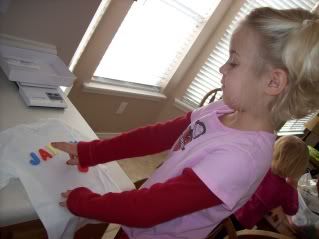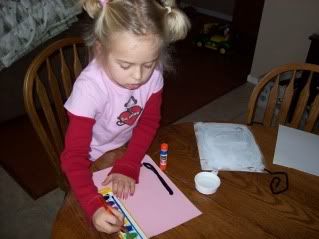 Heading out the door on her 100th Day of Kindergarten!!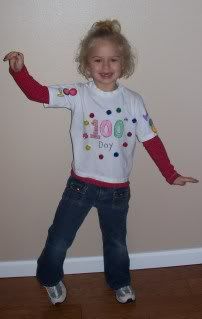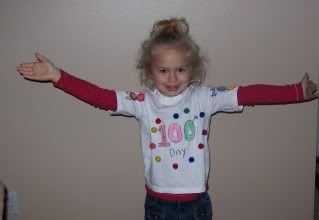 And this morning, Jaidyn was recognized for the Caring Kid Award of Integrity for the month of January. Her teacher picked her to receive this. We are so proud of her. Wes, Addy, & Levi got to go to her assembly today, while I attended my doctor's appointment. Here she is showing of her Nixa Elementary Caring Kid necklace.
And after watching Peter Pan today, Addy (Peter Pan) & Levi (Captain Hook) had a battle of their own...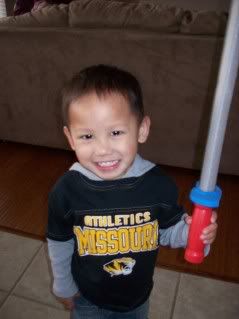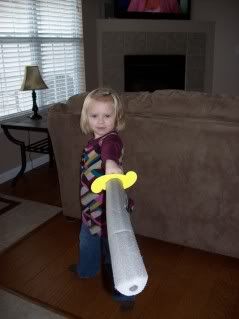 And today's last doctor appointment before the big day next Tuesday went well. We are still right on track to induce on Tuesday morning. I filled out my admittance paperwork this afternoon so that I won't have to worry about that Tuesday morning. I also found out I have to attend a one hour epidural interview class. Seriously?? This will be the third time choosing this type of anestesia, I really don't think at this point that it is necessary to sit through this. Blah!