Due to the cold temps, especially with the bitter wind earlier in the week and the tiny bit of snow we received, I took advantage of every opportunity to stay inside. Unless it was getting out to take or pick up the girls from school or to get groceries, most of the week was spent at home. Wes worked some odd hours this week, so he was able to help me with some of the school trips, which was nice.
This past Tuesday I had my weekly doctor's appointment. I haven't progressed any (other than I gained 3 pounds in one week, Ugh!) and Baby Boy C is still hanging out way high, so February 1st still looks to be the date. Him hanging out so high would explain the horrible burning sensation that I am feeling on my tummy just underneath my chest. It just feels like someone is constantly pulling and stretching the skin right there and it is painful at times. Only 16 more days...I can handle it, but then I am sure there will be other pains to take it's place.
Today I braved the mall with both Levi and Addy to use some of my Christmas money to buy a new purse and wallet. I was in dire need...my current one had cracked straps and strings hanging off it. It has found a lovely new home straight in the trash can. And even know it wasn't the most enjoyable shopping trip, I managed to find a purse I love at the expense of using the bribery of taking several trips up and down the escalators to get them to cooperate and follow me around to several stores while I made my decision. Levi kept saying, "Whoa, that was fun!" and then point to the other side so we could do it again.
Addy has also qualified for speech therapy services at her new preschool. She starts next week and will be doing two sessions weekly while she is at preschool. I am so glad as I really think this will boost her confidence. She will be doing it with another girl from her class and I am sure she will think she is getting special treatment getting to go do something different than most of her class.
Painting kept them busy for at least an hour while I continued to tally receipts, etc. to file our taxes this year. I'm trying to get it all finished before February 1 so that all I have to do is add W2's and other tax info that comes in the mail between now and then. Now that Levi's adoption is finalized we can apply for the Adoption Tax Credit! Woohoo!! And on a political note...I knew I liked President Obama for a reason...as it was his staff and his new health care reform bill that kept the adoption tax credit around for adoptive parents (not only kept it, but increased it and made it a refundable tax credit). This makes adoption a viable option for many families who may otherwise be unable to afford to adopt and help place children in homes from both foster care and places around the world. So while the health care bill isn't perfect, it is a start in the right direction.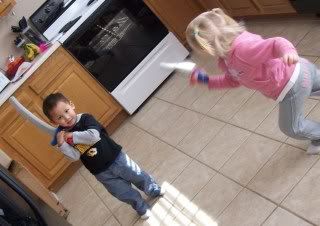 Addy thinks that she is a real-life musketeer. You should see her spin moves before whacking Levi with the sword...
And then magically she transforms from a fierce musketeer to a sweet princess.
I love trying to fix dinner alongside Levi drumming on the bowls I have set out.
Why can't Levi and Addy find an activity like Jaidyn? So quietly playing on her Nintendo DS.