This was the girls first official snow day of the school year. I received an automated call around 5:30 announcing the cancellation of school so we were all able to sleep in a little and enjoy the morning at a relaxed pace. Thankfully, Wes has an evening shift tonight for work so he was able to take the kids outside for some morning snow play time. I never made it out of the garage and only went that far to get some pictures and take some video. I did have hot chocolate waiting for when they decided they had had enough of the cold and wanted to come back in. I'm just not a fan of the cold and with my watermelon sized belly there always seems to be a draft coming in under my shirt and coat.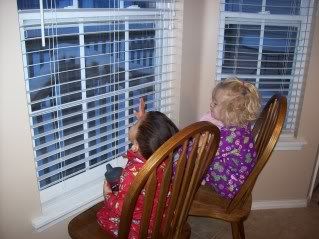 Jaidyn and Levi hung out in front of the kitchen window for a while to watch the snow fall.
Addy found a cozy spot on the couch to watch some Disney Channel.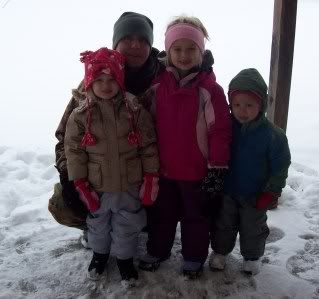 All bundled up!!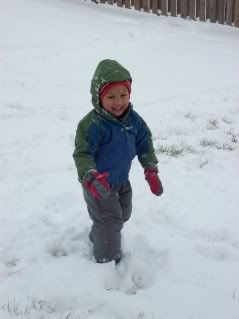 Snowballs in hand!!
Climbing back up the hill.
Jaidyn eating snow!
Brrr! Everyone has rosy cheeks!
Jaidyn showed Daddy and Levi how to make coffee filter snowflakes like she did at school last week. We now have the fridge decorated in festive snowflakes!
On Tuesday, we had girls night out. Jaidyn had received tickets to the Strega Nona musical as a reward from the summer reading program. So Nana, Jaidyn, Addy and I enjoyed an evening eating out at the Red Robin and watching the show. The girls loved it!! Since they enjoyed it so much, we have purchased tickets to the upcoming Beauty & The Beast Broadway musical coming up before Valentine's Day for the entire family (I am hoping our soon-to-be newest addition will cooperate for the evening). Nana & Papa are going to join us too...I wonder if Nana has told Papa about his Valentine's Day surprise? I am sure he wouldn't want anything more than attending a musical. :)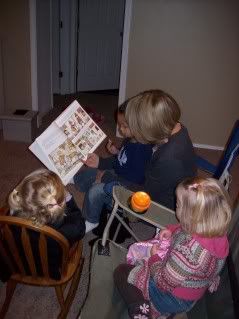 Jaidyn's teacher helped her check out the Strega Nona book from the school library and Nana read it to them before we left.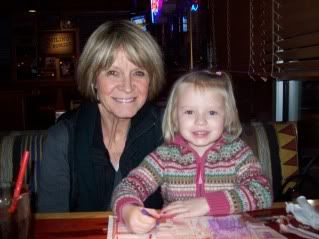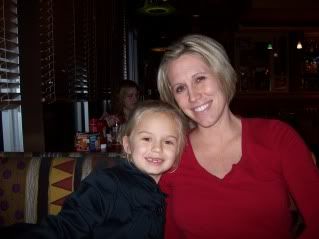 Feasting at the Red Robin
Just a few more pics from the week...
I am trying to bribe Levi with Disney Cars to get him to sit on the potty. He'll sit but is still unsuccessful with getting any in the potty.
The kids were able to attend a Richland friend's birthday party at Jump Mania. It is always so much fun getting see everyone. They played so hard which can be noted by their sweaty hot cheeks.
Jaidyn lost her other front tooth...just hearing her talk sometimes is kind of funny. And Addy is about fed up with Jaidyn racking up all the dough from the tooth fairy and has started trying to wiggle her front teeth.
Ever wonder what "Tourist Dorothy" would look like? Addy had black socks on with her outfit for preschool and later that evening when she changed in to dress-up clothes she came upstairs to show us how cute she looked (Or at least she thought she was cute). Wes and I laughing at her didn't go over so well.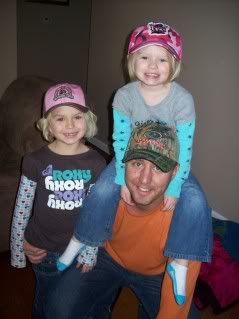 Wes took the kids to Bass Pro one afternoon so I could get out and about and run errands kid free. He bought them all a hat. Levi wouldn't cooperate for a picture, but he sure looks cute in his.