We just can't get enough of this gorgeous weather! My inside the house "To Do" list continues to grow, but I keep pushing it aside or hiding it under my computer desk stack of papers to continue to get outside with the kids and enjoy. I am going with the out of sight, out of mind concept. Friday night we enjoyed super loaded nachos and a great hometown football game with friends. Saturday morning each of the kids had a soccer game. Levi even scored 3 goals!! And 1 more if you count the one he scored in the other teams goal. Last week he scored his first goal ever and I think it really clicked that getting the ball in the net is the entire idea of the game. Nana came on Saturday for the day and we also got to enjoy her company at Campbell's Pumpkin Patch. The kids really enjoyed the magic show and the pony rides. After church on Sunday we packed up snacks and water bottles and took a drive to Busiek State Park to spend the afternoon hiking trails. While we chose the 3.2 mile "easy terrain" trail the terrain wasn't all super easy with the running stroller. Poor Reid was getting ROCKED! So Wes or I carried him much of the way while the other pushed the stroller up the rocky hills. And I am so proud of the kids as they walked the entire way...and with the exception of Addy complaining in the first 1/2 mile about how tired she already was there really wasn't any complaining. It might have helped that we promised they could have a soda at dinner (rare treat) as Levi will do anything for a Diet Coke.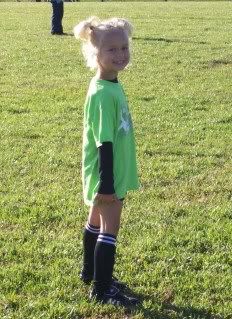 Jaidyn on the field ready to start the game.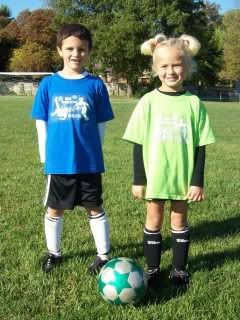 Jaidyn with one of her best friends from school.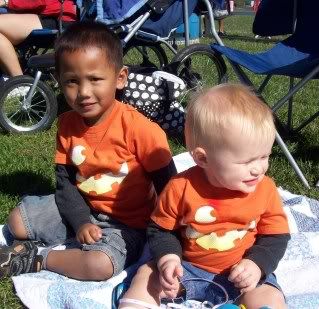 Watching the soccer games.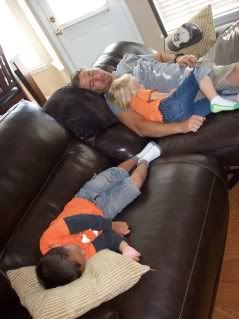 Soccer games must have really worn them out. Will we ever get the the Pumpkin Patch?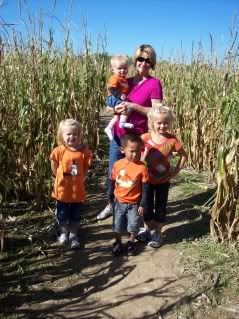 Corn maze!
Front row seats waiting for the magic show to start.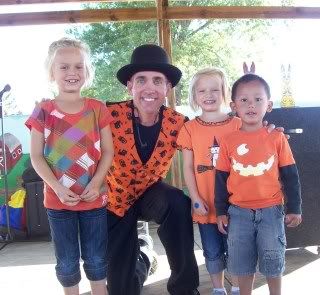 The kids with Marty the Magician!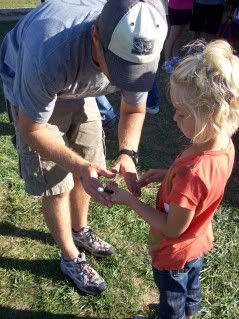 Jaidyn practicing tricks with her newly acquired magic wand.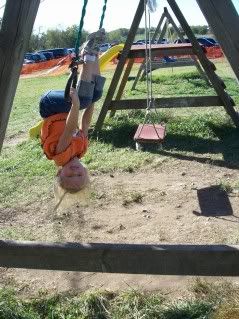 Addy Upside down!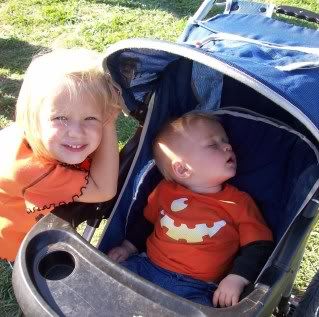 An afternoon Snooooozzzzeee!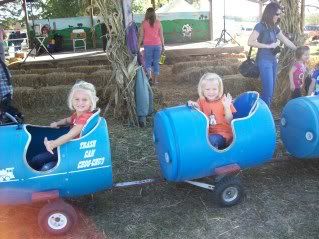 Not sure what it was about the train ride but Levi refused to ride it and Jaidyn rode it 3 times...once in the very first car, the middle and in the caboose.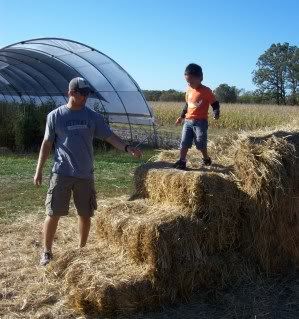 So instead of a train ride, Levi climbed hay bales.
The kids enjoyed their pony ride and while there wasn't the tiniest of a gallop in this pony's step, Jaidyn was rocking back and forth on like it was and Addy had her make believe lasso out circling it above her head. And after the many loops that this pony made, I can't say that I blame him. Levi wasn't sure at first that he wanted to do a pony ride, but with Wes promising he would walk right beside him he agreed to try it. I think he had the image of the bucking bulls and broncs that he has seen on tv in his head and wants nothing to do with that.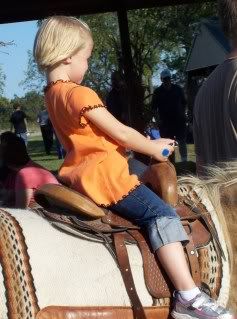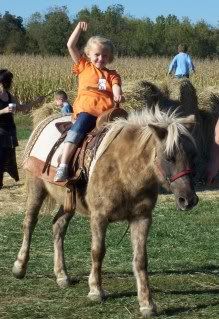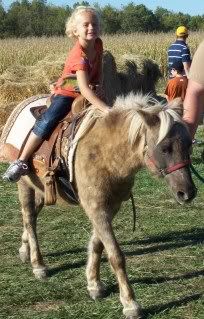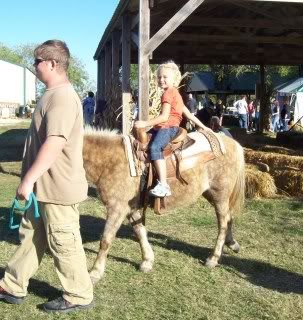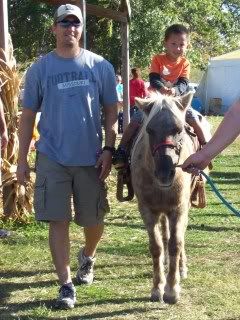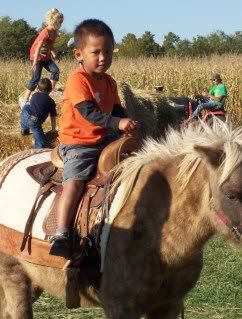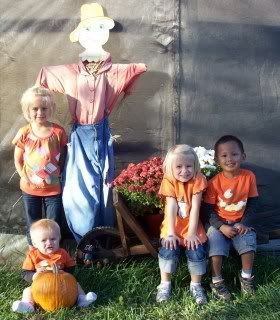 The sun was beaming down on the cute photo opportunity background so we made up our own. Nana snagged the stand-up scarecrow and a pumpkin to add to the wagon of mums.
I am not sure attempting a 3.1 mile trail hike in Busiek State Park with four kids 6 and under is considered adventurous or just plain stupid.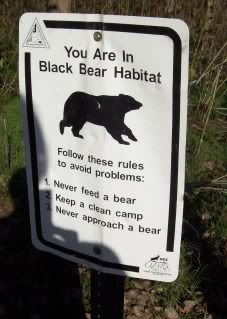 After seeing this sign, Jaidyn starts off down the trail tapping two sticks together (from Disney's Parent Trap movie with Lindsey Lohan) trying to scare away the bears. I can't say that I agree, but at the end of the hike the kids were disappointed to not see any bears. So they said next time maybe we should follow the yellow marked trail because that's where all the bears would be.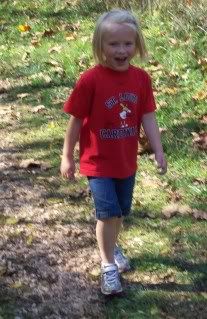 Addy's already lolly-gagging behind and complaining how tired she is and we just got started.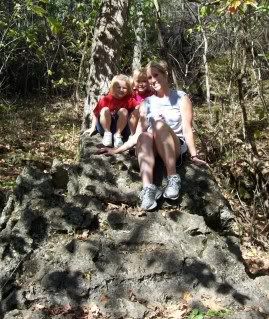 This was an approximate 10 foot boulder that we pretended to be a mini mountain. We three girls made it to the top!!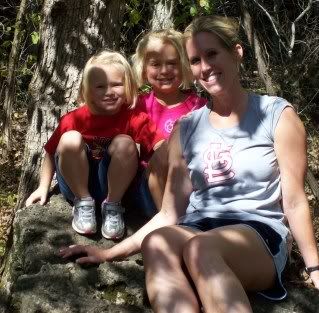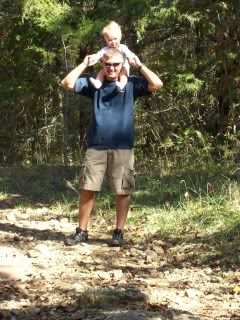 Reid has it made! Lucky little guy!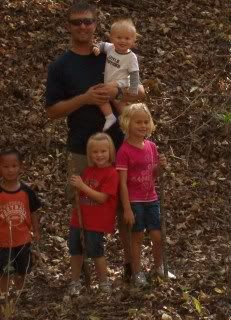 They were such serious hikers with their walking sticks.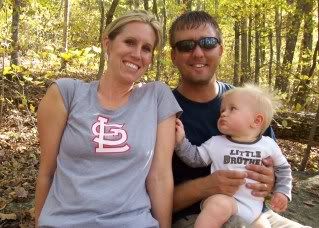 Last weekend we attended our church parish picnic and the kids were entertained for hours with bounce houses, carnival games, water balloon tosses and yummy food.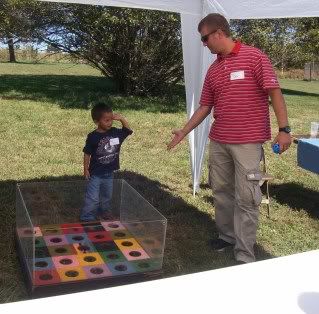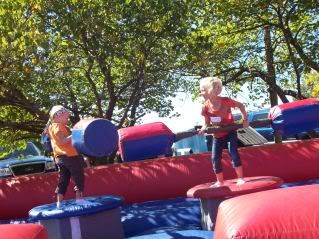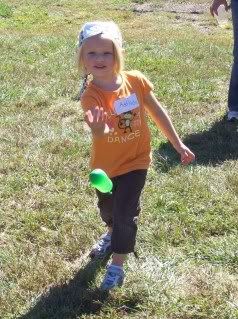 And just some moments from home...
Levi was playing on the computer wearing his 3D glasses he got at the movie theater.
What a big boy sitting in his chair at the table. Reid wants to be a part of everything!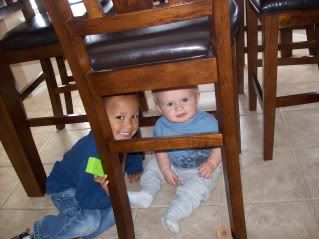 Reid isn't crawling or even attempting to crawl but instead just scoots around the kitchen and living room floors on his booty. Not sure how he managed to maneuver himself underneath the chair stools but he did.
Jaidyn and Addy had their army camo themed "Big Event" at school on Friday to celebrate the end of the 1st quarter. Jaidyn chose to get a mustache and goatee at the face painting station. Why?? She told me that she wants to be an artist when she grows up and it would be something an artist would have...I think she must have recently studied Vincent Van Gogh. Ha!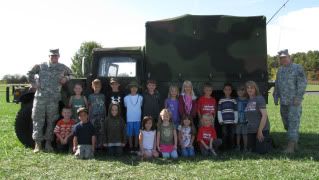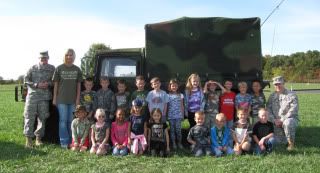 Jaidyn and Addy's class pictures of "Big Event".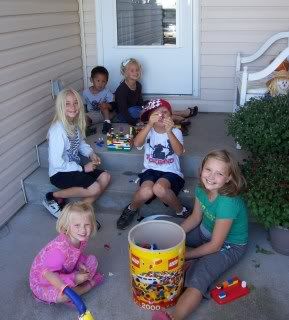 I love that our cul de sac seems to be the gathering place for the neighborhood kids after school. On this particular day there were lots of great Lego creations taking place on our front porch.