Early Sunday morning after an exhausting (but fun) weekend of wedding festivities we loaded the van to make our way towards St. Louis (Maryland Heights) for the Gateway Spring Fling. This was the girls very first USAG Competition. We knew going in to the meet that the competition would be much better than anything we had seen and even though the girls are on a rec style gymnastics team only practicing 1.5 hours per a week, they were excited about the experience of the competition.
Addy had a very good morning receiving first place on her floor routine, 4th on the vault and 5th on the beam. She started out and finished well on her bars routine, but fell midway on a skill she normally gets and this unfortunately took her out of placing on this event. She finished 5th out of 10 overall.
While Jaidyn's overall scores weren't as good as we had hoped, she completed all of her routines nicely. Artistically, the other gymnasts were much better and they were much more polished in their routines than she was. She did receive a 4th place ribbon for her vault, but didn't place in the top six on any other of the apparatus. Jaidyn being the competitor that she is is hoping that she will have a chance to compete again in the future as she too knows that she wants to top her previous scores and find herself on the medal stand a little more.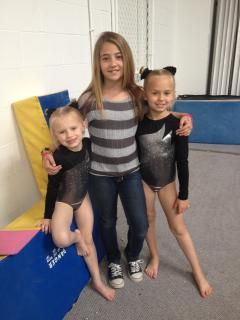 Hadley & Grandma Penny made a long trip to support the girls at their meet.
Love Jaidyn and Addy's gymnastics fan club! They all made a huge effort to be there after a long weekend of wedding fun!
Addy's Level 3 Team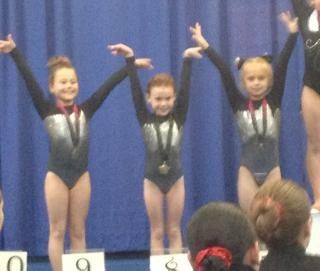 Jaidyn's Level 4 Team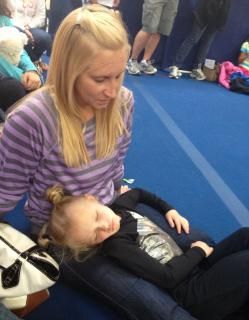 Completely Exhausted! Good thing her competition was earlier in the day as she didn't make it through watching all of Jaidyn's.