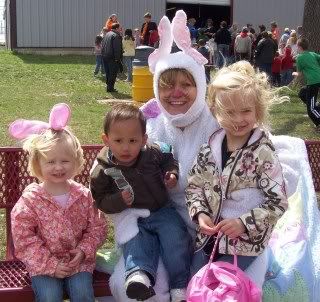 Yesterday, Levi had his first Easter egg hunt with his sisters at our hometown park. Levi was in the "carry" 3 and under age group, so I would carry him to a spot and let him pick up several eggs before moving on to another spot. Addy was also in this age group, so I let Wes try and keep track of her running with a mass of other kids. I love this egg hunt as it doesn't matter how many eggs you pick up because the kids turn them all in and they all get the exact same prizes in that age group. Jaidyn could have been in the preschool age group, but she insisted that she wanted to go with the K-2 age group. She's so competitive...she ran right past the first bunch of eggs, where most of the kids stopped, to get to an area all her own.
Go Addy, Go!
Levi SLOWWWLLLYY placed his eggs in his basket. Poor guy, this egg hunt snuck up on me and I didn't have a boyish looking basket so this one with pink lining had to do for the day.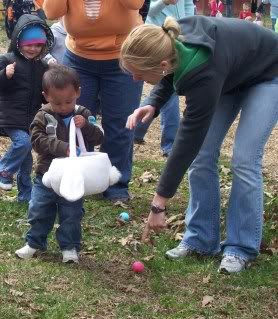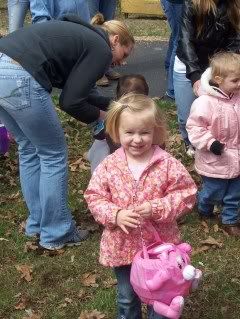 Levi is still mad that he had to empty his basket of eggs and trade them in for prizes.
The race to the eggs is on! Jaidyn's age group kept cheating up past the line and they kept having to scoot the kids back.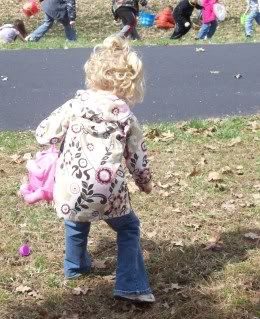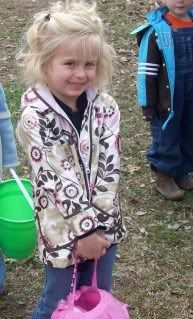 A windy day, but it was better than the rain that was forecasted for the afternoon.
We have several more egg hunts planned for the week, so the Easter Bunny is definitely going to have his work cut out for him. :)
I was sitting at my computer working and all of a sudden the water from my kitchen sink started running. Levi had scooted the stool to the sink and was playing in the water. He's always getting in to something!