Warm weather just makes the days seem easier. Loading the kids up in the van to go out and about doesn't seem like such a chore. And we are on-the-go much more than we are at home. The kids have been completely entertained by just being able to be outside and if I would remember to get some popsicles at the grocery store it would be a perfect supplement to the warm spring weather.
Nana joined the kids and I yesterday on a shopping trip and we stopped off at a park for a picnic lunch. We celebrated Nana's birthday a day early with a German Chocolate Cake. So glad that she loves chocolate as her cake was much more enjoyable than the pineapple upside down cake that Papa chose for his birthday last week. White cake with pineapples just doesn't compare to anyting chocolate.
Happy Birthday Nana! Thanks for spending the day with us.
At first I thought the Easter Bunny snuck in our car for a ride, but then remembered it was disguise day at preschool. Both Jaidyn and Addy were one of the Easter Bunny's sisters.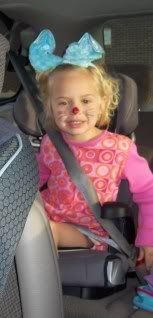 The 80 degree weather called for wearing shorts today. Putting this outfit on Levi brought back so many memories. This is the outfit that he was wearing when we met him for the first time and brought him with us. Both the shirt and the shorts have his name "Lee" that he went by at the Heart of Mary Villa written on the tag. He hasn't worn shorts since this past fall, so he keeps looking down at his legs today and pinching at them. The shorts do fit him much better now as they were more like baggy capri pants last summer.
(Today)
(Today)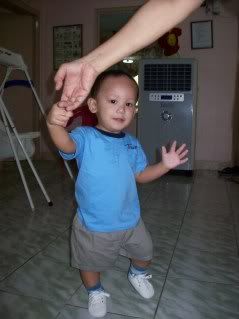 (August 11, 2009, Gotcha Day)
(August 11, 2009, Gotcha Day)
Just the thought of rolling around raw meat in my hands makes me nauseated. Blech! Jaidyn begged her Daddy to let her help him make up the hamburger patties. She finished up making the small kid burgers...
Jaidyn: So do you think that I could probably get a job now?
Me: What kind of job do you want?
Jaidyn: You know, one of those kind that needs hamburgers made.
Glad she dreams big! Haha!