So our life has definitely taken an unexpected, unplanned turn. We found out a couple of weeks ago that we are expecting a new addition to our family about mid February. For the first couple of weeks I felt as if my whole world had been turned upside down. We were DONE and our family was complete. Wes has taken it all in stride and really I have been the one with a very selfish attitude. I really don't want to put my body through a pregnancy again. I like that we can go places and I don't have to carry a gigantic diaper bag. I like that the kids can enjoy about every activity and no one has to sit out because one is too small. And I really miss my summer time margaritas. After Levi was finished with baby items we got rid of it. No cribs, high chairs, baby toys or clothing. I had a friend offer her crib and I have no idea where we would even put it in our cozy two bedroom home. I just can't imagine being any more busier than I am. Just the thought of getting one more around in the mornings before school completely stresses me out. And the thought of having 4 little ones with me attempting to get groceries at Walmart makes me almost nauseated.
With all of that being said, I can't say that I am truly excited, but I have come to terms with it. And I am sure that one day I will look back on it and wonder what we would have done without him/her. My daily life is so blessed with Jaidyn, Addy, and Levi and we will just be blessed with one more.
Last week Jaidyn saw the picture of the ultrasound on my desk and asked me what it was as we hadn't told the kids yet. So I explained everything to her and she looked at me very seriously and said, "Don't you think we should tell Daddy about this?" Lol! And then the next morning I saw her laying on the living room floor and looking at the picture. She comes over to me a few minutes later and says, "Mom, I think this should probably be the last baby you have. You really are going to have your hands full." She couldn't have said it better. :)
I apologize to family and friends who are finding out our news by reading it on the blog. We are just now starting to share with everyone. I am sure that all will work out, after all, Life's A Dance and we will continue to take it one step at a time.
On another note, I do have lots of pictures to share of our festivities leading up the 4th of July.
We enjoyed a Springfield Cardinals baseball game with Papa JR, Mama LaLa and our niece and nephew.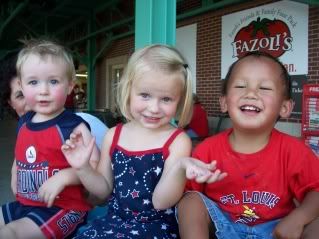 I'm stuck in the middle between these two crazy boys!!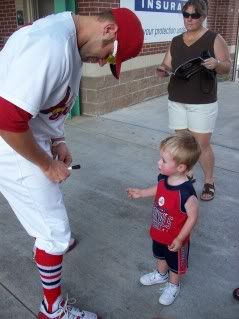 Getting an autograph...hopefully he will make it to the big leagues one day.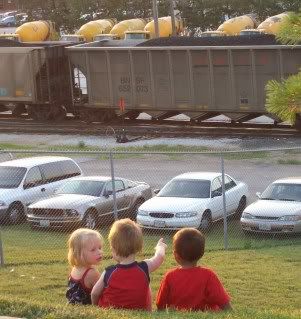 We sat in the general admission grass area which was perfect for the kids so they weren't confined to a seated area. Addy, Levi and Heston were a little more entertained by the train going by than the actual game.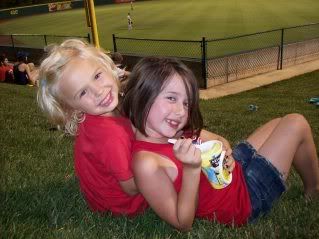 Enjoying some frozen lemonade!!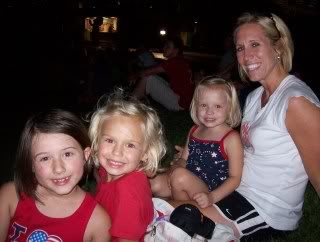 Watching some post-game fireworks!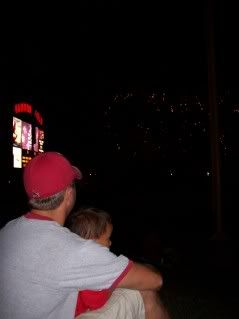 Levi enjoyed his first firework show in Daddy's lap.
Fishing and fireworks with Papa and Nana at the lake house.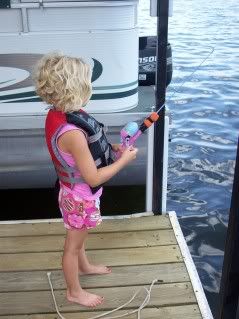 I don't think Jaidyn caught any fish this weekend, but she did catch 6 little fish last weekend off about 8 casts.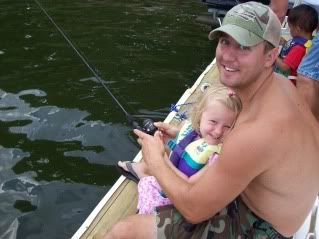 Taking a ride in the fishing boat.
The kids and neighbor girls enjoyed the kids morning at the fair with lots of fun activities to participate in. We love when the fair is in town as it is practically just a few steps away outside our backyard. We spent several afternoons over at the sale barn watching the lamb, hog, and cattle shows. Levi was mesmerized by seeing the real live farm animals.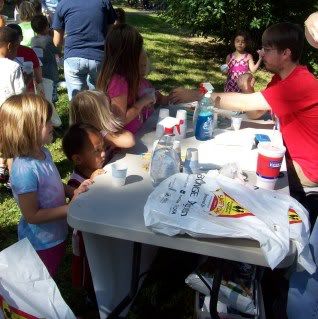 Making bubble machine blowers at the library table.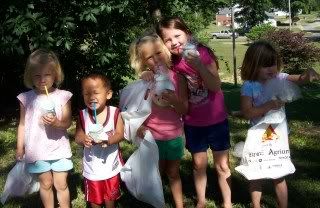 Blowing bubbles!!
Jaidyn wanted to participate in this bean sorting race. It took forever for her to get her turn and it took forever for them to complete the bean sorting activity. The rest of the kids, obviously bored (I didn't blame them) ran off to the playground to play.
Waiting their turn to climb through the giant caterpillar.
Levi is fearless!! He didn't want any help from his sisters.
Papa JR and Mama LaLa came for an evening and treated the kids to some carnival rides at the fair and brought along a firework pack. The kids are admiring the firework loot!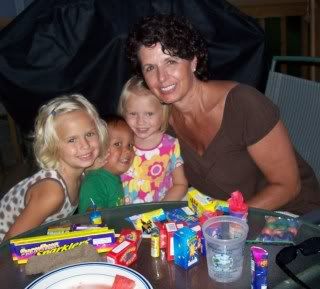 The holiday weekend was spent at the lake and the weather was just about perfect all weekend long.
All the kids took turns riding the tube. Even Levi rode it with Dad.
Participating in some fun activities while waiting for our appetizers to arrive at Larry's On the Lake.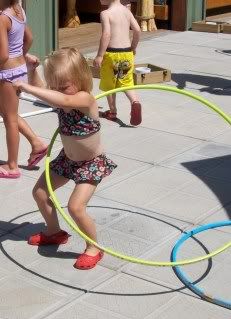 Hula Hoop Queen!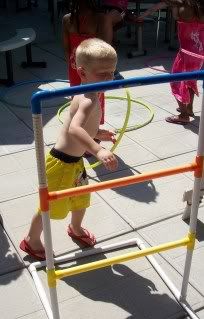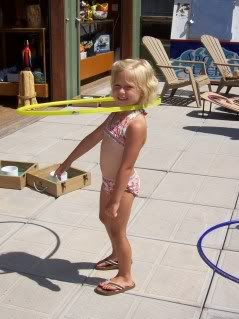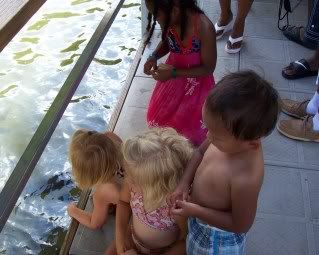 Feeding the Carp.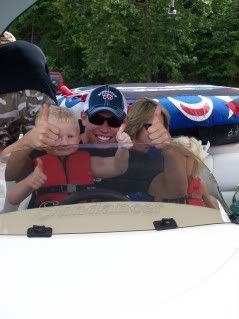 Everyone is thumbs up!!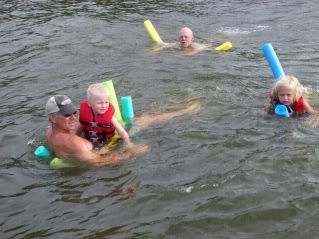 Lovin the warm water.
Sometimes it's nice to have connections.
Don't they look cute in their red, white and blue?